---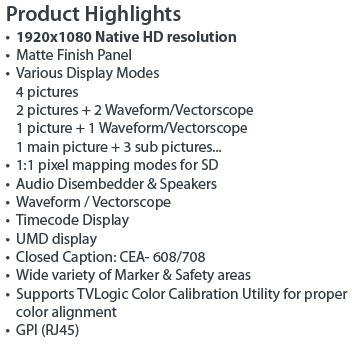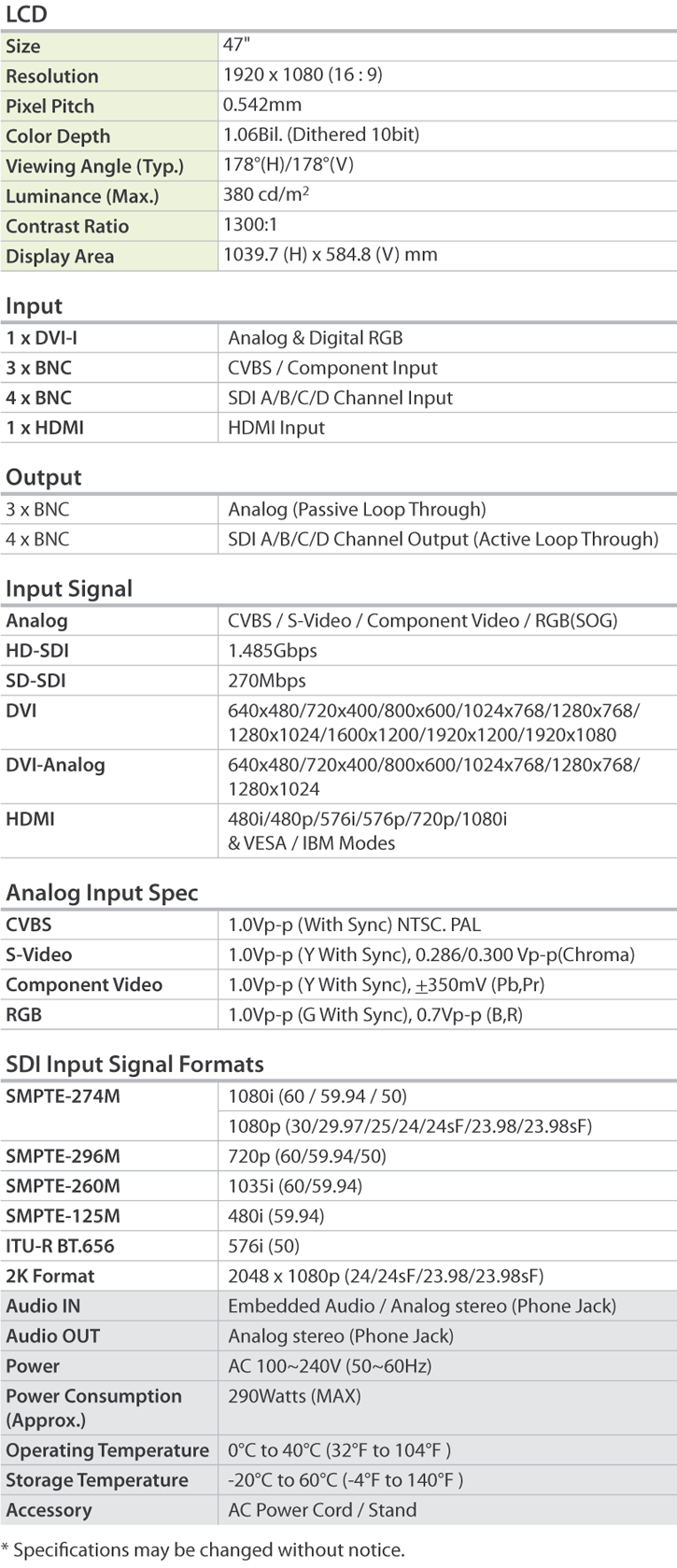 Audio Level Meter Display
Displays the level of the embedded sound signal together with the video signal input through the terminal such as SDI or HDMI.
Closed caption
Closed caption.
Marker
Displays various kinds of aspect ratios on the screen. Wide range of markers and security areas are available with line color and curtain transparency selection. A User Marker is available if any of standard markers fits your requirements.
Time Code Display
Displays the Timecode information on the screen.
Waveform/Vector Scope
Waveform Y: Displays the Luma(Y'), Cb, Cr component of the input signal into waveform.
Vector Scope: Displays the color components 'B-Y' and 'R-Y'of the input signals onto the X-Y axis.
1:1 Pixel Mapping Modes for SD/HD
Displays the original image resolution without scaling to match a certain resolution or an aspect ratio.
UMD
Displays user customized 8 characters or source ID or Tally signal of Ancillary (ANC) data on the screen.
LQM-471W : 멀티 소스 모니터링에 이상적인 솔루션을 제공하는 47인치 쿼드 모니터
LQM-471W는 47인치 4분할 화면 입력 디스플레이로 조정실과 같은 애플리케이션에서 다양한 멀티 소스 모니터링에 최적의 솔루션을 제공합니다. LQM-471W는 다양한 디스플레이 모드를 구현할 수 있으며 고품질의 LCD 패널 사용, 업계 최고의 비디오 프로세싱 기술의 적용으로 최상의 화질을 재현합니다. Marker, Waveform, Vectorscope, UMD, Closed Caption, Remote Control 등 다양한 기능을 제공합니다.
Display Spec.
| | |
| --- | --- |
| Size | 47" |
| Resolution | 1920 X 1080 (16 : 9) |
| Pixe Pitch | 0.542mm |
| Color Depth | 1.06B |
| Viewing Angle | 178°(H) / 178°(V) |
| Luminance | 500cd/m2 |
| Contrast Ratio | 1300:1 |
| Display Area | 1039.7 (H) x 584.8 (V) mm |
Input
| | |
| --- | --- |
| 3 X BNC | Analog Input (Component) |
| 4 X BNC | HD SDI A/B/C/D Channel Input |
| 1 X HDMI | HDMI Input |
| 1 X DVI | DVI Input |
Output
| | |
| --- | --- |
| 3 X BNC | Analog Output (Component) |
| 4 X BNC | HD SDI A/B/C/D Channel Output |
Audio
| | |
| --- | --- |
| Audio In | Embedded Audio/Analog Stereo (Phone Jack) |
| Audio Out | Analog Stereo (Phone Jack), Internal Speaker(Stereo) |
FPGA Functions
1:1 Pixel Mapping Modes for SD/HD, Audio Level Meter Display, Marker, Time Code Display, UMD, Waveform/Vector
Closed Caption
CC-608 ANC, CC-608 LINE 21, CC-708
Calibration
TVLogic Color Calibration Utility
Other Functions
REMOTE
GPI (RJ45)
REMOTE
TVLogic's specification
USB
Firmware update by USB memory stick
Ethernet
Conversion
Options
LQM-471W : 멀티 소스 모니터링에 이상적인 솔루션을 제공하는 47인치 쿼드 모니터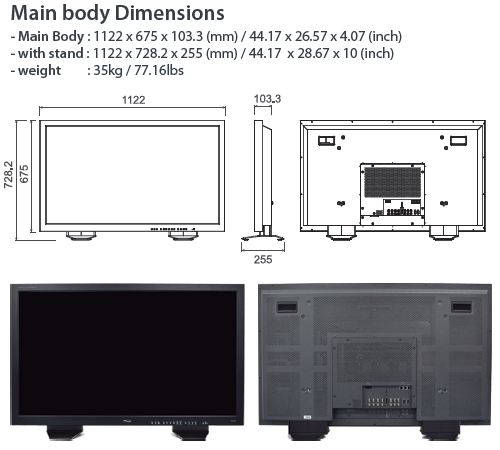 LQM-471W : 멀티 소스 모니터링에 이상적인 솔루션을 제공하는 47인치 쿼드 모니터
| | |
| --- | --- |
| Pronduct Brochure (1 Page) | - |
| Manual | - |
| Leaflet | - |
| Total Brochure | Download |