---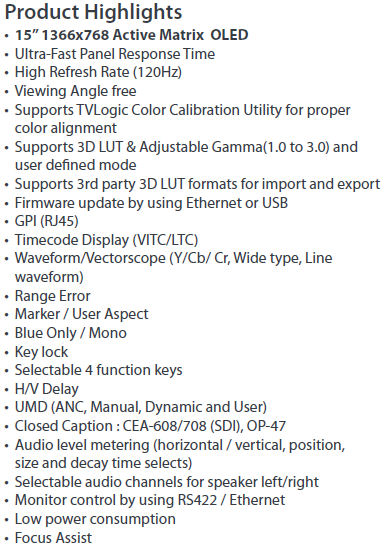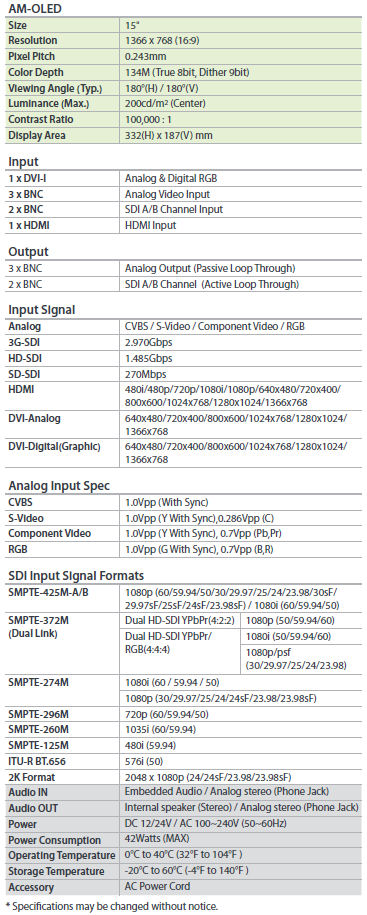 Audio Level Meter Display
Displays the level of the embedded sound signal together with the video signal input through the terminal such as SDI or HDMI.
Blue Only / Mono
Red and Green channels are not used and only Blue or Monochrome channel is used to display the screen. This function is used to adjust the color tones (tones and saturation) of the screen using the SMPTE Color Bar. For example, after displaying the Blue channel, adjust the Color (or Saturation) and Tint (or Hue) so that the original Magenta and Cyan are of the same brightness, and the original Gray and Blue are of the same brightness.
H/V Delay
Allows you to check the Blanking area and synchronize signals by displaying the horizontal and vertical intervals in the center of the screen.
User Aspect
Adjusts the Width /Height display ratio.
Various Scan Modes
Controls the size of the image. Overscan: Extra area around the four edges of the image that may not be seen reliably by the viewer. Underscan: Constrains the size of the image so the monitor shows everything the camera is seeing. 1:1 pixel: Displays the original image resolution without scaling to match a certain resolution or an aspect ratio.
Waveform/Vector Scope
Waveform Y: Displays the Luma(Y'), Cb, Cr component of the input signal into waveform.
Vector Scope: Displays the color components 'B-Y' and 'R-Y'of the input signals onto the X-Y axis.
UMD
Displays user customized 8 characters or source ID or Tally signal of Ancillary (ANC) data on the screen.
LEM-150 : 세계최초의 방송용 OLED 모니터
LEM-150은 OLED(Organic Light Emitting Diode) 패널을 채용한 세계 최초의 방송용 모니터로 티브이로직의 우수한 기술력에 OLED 패널을 사용하여 LCD 모니터에서는 구현하기 어려운 많은 장점을 제공합니다. LEM-150은 깊은 블랙으로 10만대 1의 높은 명암비를 제공하고 180°에 가까운 넓은 시야각을 제공하기 때문에 어떤 각도에서 보아도 화질의 변화가 없습니다. 또한 LEM-150의 빠른 반응속도는 어떤 환경에서도 선명하고 역동적인 화질을 제공해 줍니다.
LEM-150 : 세계최초의 방송용 OLED 모니터

| | |
| --- | --- |
| | 370 x 264 x 55 (mm) / 14.6 x 10.4 x 2.16 (inch) |
| | 417.2 x 288 x 134.6 (mm) / 16.4 x 11.3 x 5.3 (inch) |
| | 5.7Kg / 12.6lbs |